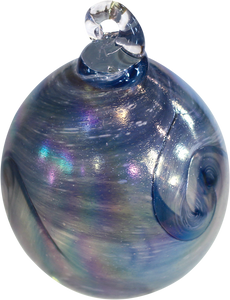 Pre-ordering through Sept 2020.
Commissioned in 2020, this ornament will remind you of a wintry twilight evening where the wind stirs the falling snow. This ornament is a gorgeous, hand-blown frosted bauble with a variety of white and grey glass fragments. The iridescent finish offers an extra dimension not seen in any of our ornaments before.

This beautiful ornament is over four inches in diameter and includes a curled element on top that is perfect for hanging a hook or string. Each ornament comes in a gift box.