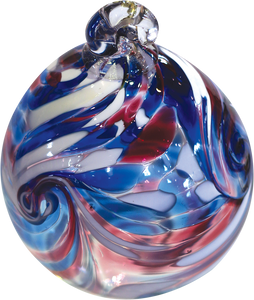 Pre-ordering through Sept 2020.
Commissioned in 2020, this ornament will show your your love of country. This ornament is a gorgeous, hand-blown bauble with a variety of red, white, and blue glass fragments swirled in a playful patriotic display. 

This beautiful ornament is over four inches in diameter and includes a curled element on top that is perfect for hanging a hook or string. Each ornament comes in a gift box.